Suspension and Sling Stand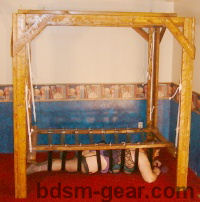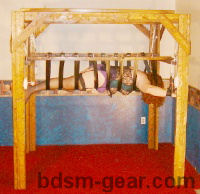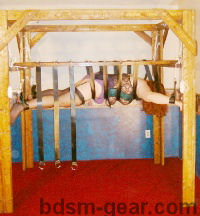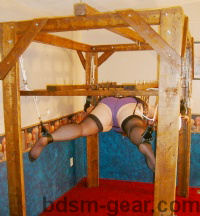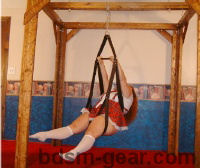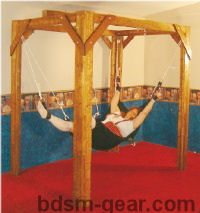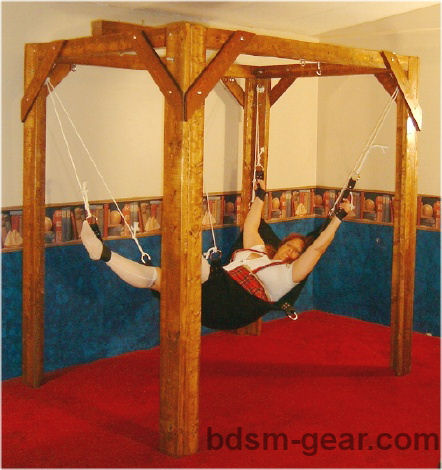 Finally a real BDSM Suspension stand that can stand up to any use you can think of!
This stand can easily accommodate a 500 plus pound person!
This large, heavy, and sturdy suspension unit stands over 6' tall and covers an area of 6' by 4'
It is fully self-supportive and can be used with a variety of suspension and bdsm items.
Slings, swings, nets, and even harnesses, this stand can do the job!
Sling, and swing shown above are NOT included with stand.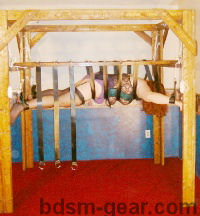 The stand-alone cradle, which IS INCLUDED, is fully supported inside the suspension stand.
Like the stand, the cradle will support well over 500 pounds.
With it's 8 2" wide straps the individual being suspended experiences no discomfort, and can be suspended for hours.
The cradle is one of the most comfortable suspensions apparatus on the market, and it comes free with the stand!
There are so many possibilities for this stand.
It holds almost any suspension item from slings and swings to our very own cradle.

Dimensions: 6' 10" tall, 6' long, and 4' wide.
Too big for your dungeon? Custom sizing is available at little cost. Call or email us for details.
Weight is about 130 lbs.

Made in America, right here in our shop.
Comes with our LIFETIME GUARANTEE

Price $999.95
Please allow 4 to 6 weeks for delivery of this item.