HEAVY DUTY Suspension Cage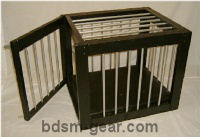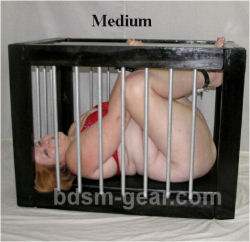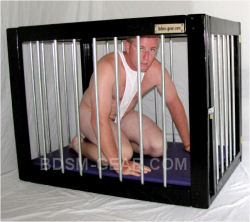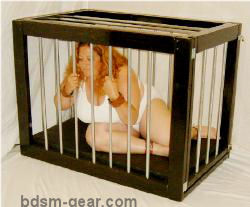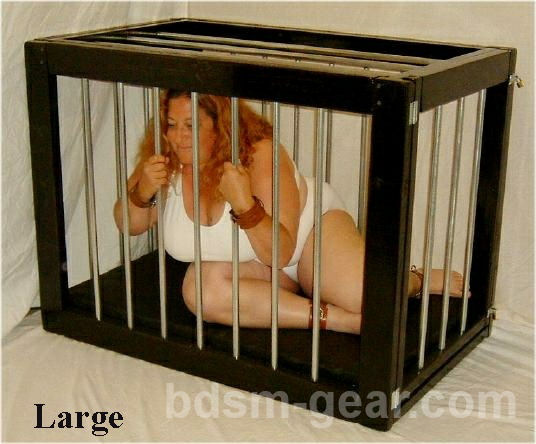 If your looking for a good sturdy cage then look no further.
This cage is designed to be strong enough for suspension.
It features solid wood around the floor, roof, and all four corners.
The floor of this cage is well padded
and available in genuine leather, or high quality marine vinyl (the toughest vinyl you can get).

Made in America, right here in our shop.
Comes with our LIFETIME GUARANTEE

This is a definite asset to any home or dungeon!
Available below in 3 sizes.
Before buying a cage, or ordering a custom one use a box the same size as the internal dimensions to make sure it will be large enough for you.
Please allow 4 to 6 weeks for delivery of this item.


Small Cage. See below for medium and large
Note this cage is very small and will be too small for some people.
Dimensions are External L 32", W 22", H 22".
Internal L 30", W 20", H 18".
Select materials and colors below, before adding to cart


Select materials
Vinyl floor {$699}
Leather floor {$799}


Colors you have selected


Black Vinyl

Mahogany Wood
Medium Cage.
Could hold most people
Dimensions are External L 40", W 26", H 30".
Internal L 38", W 24", H 25".
Select materials and colors below, before adding to cart


Select materials
Vinyl floor {$799}
Leather floor {$899}


Colors you have selected


Black Vinyl

Mahogany Wood
Large Cage {SHOWN ABOVE}
Could hold 2 medium people.
Note: Floor comes in 2 pieces due to its size.
Dimensions are External L 48", W 30", H 36".
Internal L 46", W 28", H 31".
Select materials and colors below, before adding to cart


Select materials
Vinyl floor {$899}
Leather floor {$999}


Colors you have selected


Black Vinyl

Mahogany Wood