Portable St Andrews Cross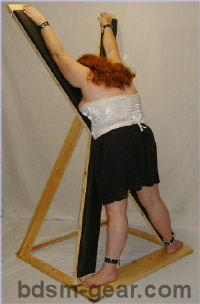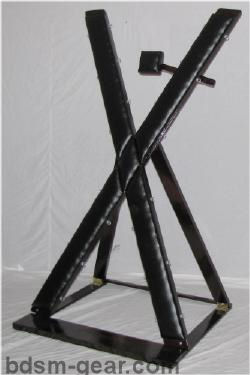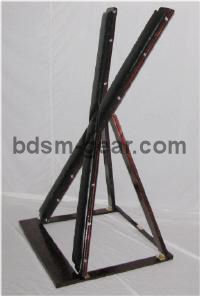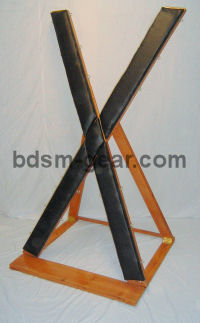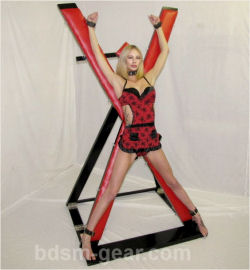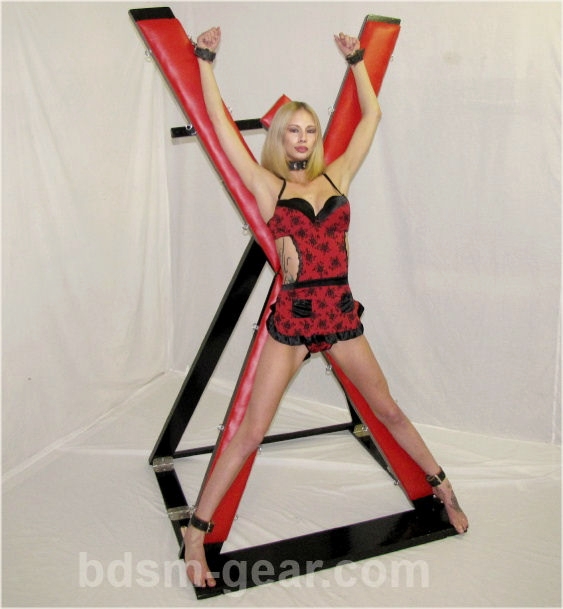 This is a beautiful, dungeon quality, Saint Andrews Cross.
It is so well built it's hard to believe it actually portable!
It is completely free standing and self supported so there is no need to attach it to a wall or floor.
This cross has a solid base with a footboard so it will not scoot across the floor, or collapse while in use.
This is something rarely found in poratable crosses, but beware of crosses that don't have this feature as they can be hazardous.

This cross has an adjustable and removable head rest for the subs comfort.
It also has 24 bondage points to keep the sub well bound!
The cushions are available in leather, or high quality marine vinyl (the toughest vinyl you can get).
DIMENSIONS: 6 feet tall, 42" wide, and 39" deep.
Foot board is made of 2X8 lumber, cross is 2X6.
Weight, about 90 lbs.

This PORTABLE Cross breaks down small enough to be moved by car, in minutes, without any tools!
The base folds up and the 2 long beams break in half, making it really small.



Made in America, right here in our shop.
Comes with our LIFETIME GUARANTEE

Price $749.00 with vinyl cushions, $899.00 with leather cushions.
Please allow 4 to 6 weeks for delivery of this item.

Select materials and colors below, before adding to cart

Cushion materials
Vinyl $749.95
Leather $899.95


Colors you have selected


Black Vinyl

Mahogany Wood